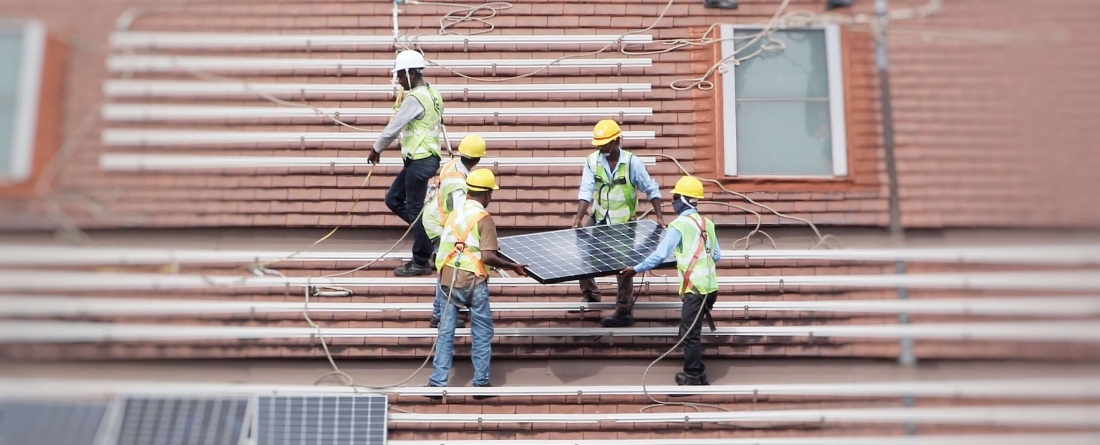 Poverty is reducing at a significant rate—approximately 7%-8% per-capita disposable income per county—in the poorest regions of China due to solar photovoltaic (PV) projects, according to the most robust research to-date in a new article in Nature Communications. The authors offer several policy recommendations to sustain strong progress in China, providing a glimpse at what socio-economic opportunities PV initiatives can provide in poor, rural areas across the world.  
The in-depth analysis behind the report, "Solar photovoltaic interventions have reduced rural poverty in China," was developed through a multi-disciplinary effort led by researchers from China Institute of Manufacturing Development, Nanjing University of Information Science & Technology; School of Finance, Central University of Finance and Economics; School of Public Policy, University of Maryland; Humphrey School of Public Affairs, University of Minnesota; School of Economics and Management, University of Chinese Academy of Sciences; and School of Economics and Management & Research Centre for Soft Energy Sciences, Nanjing University of Aeronautics and Astronautics. 
PV projects, as just one part of China's overall initiative to alleviate poverty, aim to add over 10 gigawatts (GW) of solar capacity—over 30 million solar panels—to benefit over 2 million citizens by 2020. China has nearly done this by exceeding 10 GW of installed capacity and with further analysis the number of citizens to benefit may tell the same story. The article's analysis demonstrates how, in just the short three years (2013-2016, the study period of the paper), local economies and quality of life are already improving.  
"PV projects offer an opportunity for local regions to take control over their economic and energy future," says Lucy Qiu, the corresponding author of the article and an Assistant Professor at the University of Maryland School of Public Policy and Center for Global Sustainability. "Structured similarly to community solar programs that have been successful in the United States and Europe, solar energy for poverty alleviation projects allow villages to directly benefit financially and in some cases, excess funds can be withheld for public welfare projects. Additionally, those without access to the electric grid have been given access to electricity that they wouldn't have been able to reach before."
"PV projects in rural villages such as village-level arrays have a number of socio-economic benefits and importantly boost the local economy through sustained job creation and direct revenue to local residents. Having only recently been adopted, it is essential for continued analysis to help pinpoint where and when PV deployment is most efficient and impactful," says Huiming Zhang, the first author and Professor at the Nanjing University of Information Science & Technology . "The cost of these programs can be politically challenging for developing countries and as the world faces the economic fallout from the global pandemic, COVID-19, it is essential to secure innovative financial support through and beyond subsidies by development banks or government entities." 
"The world is facing an extreme recession due to the impacts of COVID-19. Countries must look towards policies that create economic opportunities, especially in our most vulnerable communities. PV projects in China have increased per-capita disposable income per county by 7%-8%, and the positive effects continue to increase with time. This is significant for the poorest regions of China where jobs are scarce and livelihoods are at stake," says co-author Kai Wu, Assistant Professor at the Central University of Finance and Economics . "Although there is much more to learn from these projects, our analysis provides a clear picture for local economic growth that does not move backwards, but is sustainable and forward-looking for our economy, environment, and public health." 
"It is essential to monitor all poverty alleviation policies occurring across the poverty stricken regions so that combating policies do not harm the desired outcomes," says Zhang. "Our analysis shows that counties with fewer poverty alleviation policies have a more positive effect on rural incomes. Counties must track and monitor poverty statuses, the use of poverty-alleviation funds, and the impact of multiple policies competing on the poverty status of households so that each policy can work together to amplify each results." 
Qiu adds, "The initiatives should differ depending on the context of each region. The policy cannot be a one-size-fits-all, especially if the Chinese model is considered for application in other developing countries, such as Sri Lanka, Bangladesh, and Palestine where similar solar poverty reduction projects have also been implemented." 
Research moving forward needs to be conducted to better understand the mediating factors that have driven poverty alleviation in China so that the policy can be better tailored to other developing countries. The mediating factors include feed-in-tariffs, financing policies, required dispatch of electricity generated by renewable energy resources, and the assistance system for village cadres dispatched by local higher-level governments. 

You can download the full article here. To be connected with the experts, email Shannon Kennedy at skennedy@umd.edu.